Softball - Fall 2022 - Tournament - Reindeer Games - Wood Bat - Draft - Goffstown NH Softball · Co-Ed Greater Manchester
MonTueWedThuFriSatSun 1:00pm to 9:00pm
Free Agent Fees

Regular

$50.00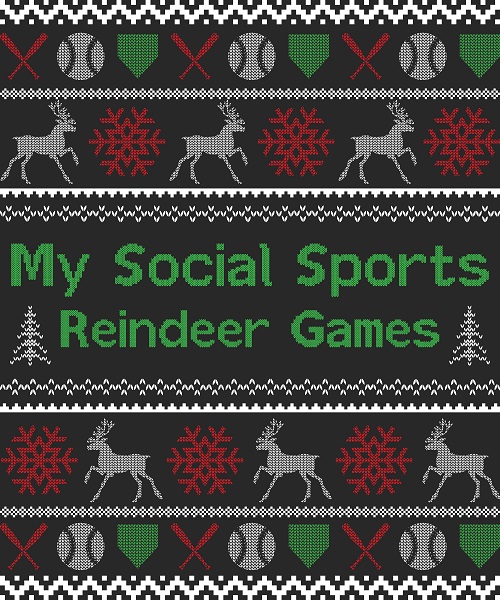 We are so excited to host our Second Annual REINDEER GAMES Draft co-ed Softball Tournament on November 25, 2022. This is an indoor tournament and will be played inside of the NH Sportsdome located at 10A Tower Lane in Goffstown, NH. Gameplay will follow My Social Sports Semi-Competitive rules and guidelines for play. Please join us for a great day of softball.
**THIS TOURNAMENT IS LIMITED TO 56 players**

ROSTERS, PAYMENT, AND T-SHIRTS
The registration fee is $50.00 per player.
All registration fees must be paid in full by the registration date - players must pay online.
Credits are not allowed for this event. There are no refunds for this tournament.
Shirts will not be provided for this tournament. But maybe purchased for an additional cost along with hoodies.
Teams will be placed into one of two pools and will play all of their pool play games on one field.
Teams are guaranteed 4 games.
MSS will provide umpires for this tournament.
This is a non sanctioned tournament.
Pool play will begin at 1:00 pm.
**TIMES ARE SUBJECT TO CHANGE**
My Social Sports will provide all softballs for the tournament and will utilize 12in softball for males and 11in softball for women.
Men will use Wood ASA/USA certified softball bats and females may use any ASA/USA softball bat that meets the following criteria.
Male Batters must use a bat that has a visible, readable ASA/USA Stamp or stamped Official Softball and be wood.

Female batters may use Aluminum, Wood, or Steel Barrel Only.

Single-walled (The Miken Maniac is a multi-walled bat and is not approved for use in any MSS event or league.
Two-Piece Wood bats are allowed as long as the barrel is wood. Fungo bats are not allowed.
My Social Sports will not provide wood bats for this event.
If players have any questions please do not hesitate to contact Steve in the office at 603- 218-3455 or steve@mysocialsports.com